>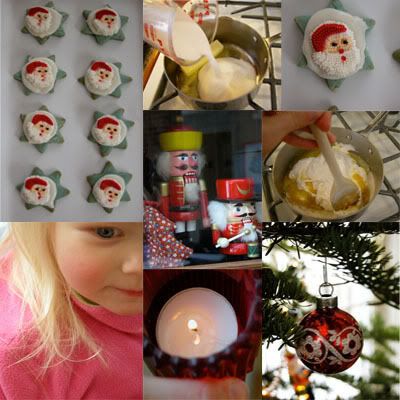 Christmas Eve day at the Tuttle's!–very exciting around here, waiting for Santa to come down the chimney tonight–hope he is expert about getting around wood stove fires.
Here are two photomontages I put together of photos from today. More baking was done while the kiddos played in the snow with their Daddy–I can't believe all the butter and sugar we are consuming! Take a look at my daughter Rosie's pink cheek, kissed by 'Ol Jack Frost–she is quite rosie. I made a visit into town while the kiddos and Howie took an afternoon slumber–I photographed holiday window displays, views from within and without shops, and a pretty view of the freezing river taken from the town gazebo. My favorite shop is the Blue Moose Emporium, owned by Joselyn Walsh–check out her white Christmas tree and window display of a tiny town.
Below is the photo taken from the town gazebo. The wreath adorns the side of our house, in between our two garages.
"Happy Christmas to all, and to all a good-night."